Recent Posts
Categories
Prepare your home for Halloween with these inexpensive—and occasionally frightfully spooky—decorations.
Savings that are truly spook-tacular.
Halloween is finally here, after months of seeing sweets, costumes, and decorations in stores! If you enjoy decorating, this is a great moment (and reason) to do it. Remember that you don't have to decorate with a scary theme — if you have young kids, you might want to try a more kid-friendly theme instead. Here's our list of ideas for making your house stand out this Halloween!
Ghosts, Bats & Black Cats
Because all of these creatures are generally linked with Halloween, including them into your décor theme is a fantastic idea. You don't have to spend a lot of money on Halloween decorations — with some black construction paper, you can simply make bat and black cat silhouettes to place around your front entrance, and ghosts can be made from any old sheets or fabric sitting about your house. As you make these objects, be creative and let your imagination guide you!
Giant Spiders & Cobwebs
Nothing screams scary than a giant spider dangling from your front door or porch! If you don't want to buy one at the store, you can also make your own using a few craft items.
Materials List:
Black Trash Bag
Black Duct Tape
4 Metal Hangers
Magazine Pages
Pool Noodle
26 Gauge Floral Wire
Wire Cutters
Scissors
The full article on making this spider is: https://thecraftcrib.com/giant-halloween-spider/
The Jack-o-lantern
While this is a classic decoration, you can make it even more unique by painting the pumpkin in a different color, trying new cut-out options, or even adding some accessories like cardboard hats or glasses like the examples.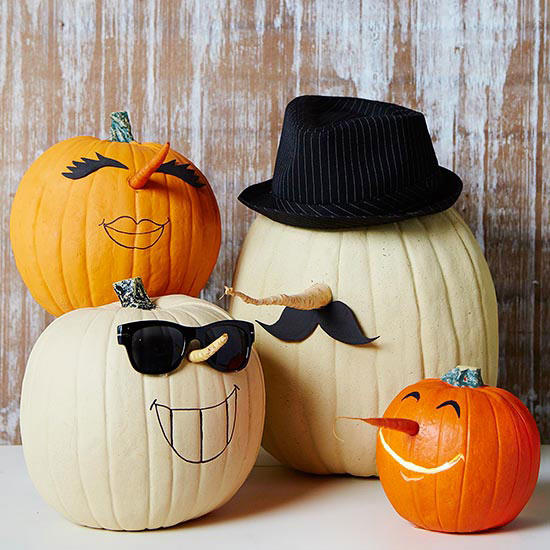 Lights 
To ensure the safety of the trick-or-treaters who will be knocking on your door, make sure your garage or porch lights are on on and that they can easily see you and your home. However, you can spice things up by changing the light bulb to a different color or adding some flickering artificial candles for a creepy atmosphere!
Friendly Decorations
If you're not into scary things, it doesn't mean you can't decorate your home! Consider using other fall-themed decorations such as hay stalks or dried corn that can also symbolize this fun fall holiday! You can also create a sign that says trick or treat – making your home the most popular on Halloween! 
We hope you're excited to start decorating after reading our suggestions! If you have any other decorating ideas or want to share with us a photo of your decorated home, we'd love to see it – just tag us on Twitter, Facebook and Instagram.
Happy Halloween!
Here are some more ideas to decore your house this year !!